Expert Picks: The Best HVAC Van Equipment for Your Business
Monday, August 14, 2023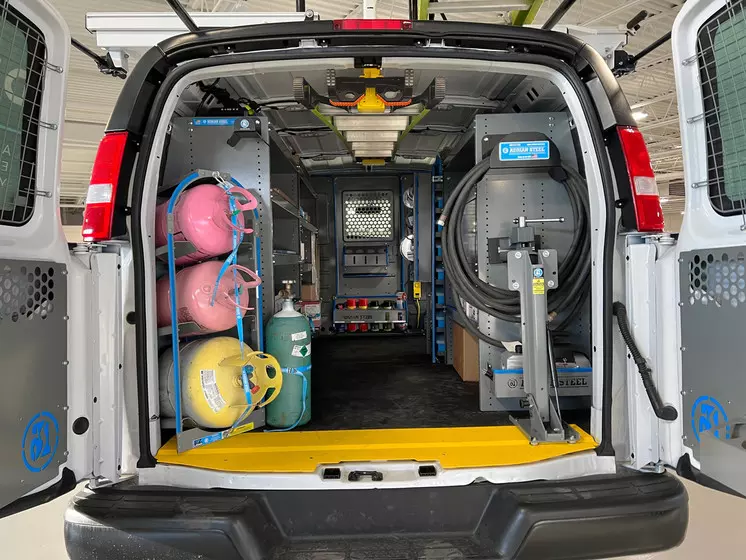 With years of experience in HVAC van upfits, we understand the importance of equipping your vans with top-notch equipment. In this article, we'll explore the game-changing HVAC solutions offered by Adrian Steel. Let's delve into how these specialized van upfits can take your HVAC business to the next level.
Embracing Efficiency and Productivity
Efficiency is the heartbeat of the HVAC industry. Delivering prompt service, maintaining equipment, and managing projects effectively are the cornerstones of success. Well-equipped work vans are vital in meeting these demands head-on.
The Role of Customized Van Upfits
Picture your van as a dynamic workshop-on-wheels – a space that houses the tools, parts, and equipment essential for your HVAC tasks. It's more than transportation; it's a productivity hub. We've seen how effective van upfits are at turning ordinary vans into strategic assets that optimize efficiency.
Adrian Steel's HVAC Equipment: A Closer Look
Adrian Steel
understands the diverse needs of HVAC contractors. Their shelving solutions are designed with you in mind, providing organized
storage
for tools, parts, and supplies. Picture opening your van to find everything neatly arranged – a sight that's both satisfying and time-saving. Adrian Steel's shelving solutions offer the foundation for a well-organized HVAC workspace. CT Truck & Van is a full-line distributor of Adrian Steel products. Here are a few specific accessories to consider:
Steel Shelving - Shelves are essential in making sure your van is organized and efficient.
Adrian Steel EZLoad™ Tank Racks - Designed to be installed at a 45° angle to give you the most ergonomic, grab-n-go access.
Venting Cabinets - Remove harmful gasses from inside the van through a hose to the exterior of the van.
Aerosol Can Trays - Great for storing aerosol cans, hand tools, or cleaning products.
Efficient Ladder Racks for HVAC Businesses
Adrian Steel's ladder racks offer a secure solution, ensuring safe transit without compromise. Additionally, they can help reduce the risk of user injury.
Drop-down ladder racks
safely lower your ladders - minimizing strain. The proper HVAC van equipment will not only protect your gear but also streamline your daily operations.
Minimize The Risk of Theft
Your HVAC tools and equipment represent a substantial investment. Protecting them is non-negotiable. Locking
drawers and shelf doors
ensure your valuable equipment is out of sight from prying eyes. Additionally, we can install
cargo van locks
to keep your vehicle secure.
Safety Additions: Preparedness Matters
Safety encompasses more than just equipment; it's about creating a secure work environment. Adrian Steel's
grab handles
and
steps
can improve ergonomics and lower the chances of an accident. Other safety features like
backup cameras
,
alarms
, and
sensors
will help your drivers stay safe on the road.
The Power of a Professional Image
A well-organized HVAC van communicates professionalism to clients. Adrian Steel's solutions contribute to this image, reflecting your commitment to excellence. Clients notice and appreciate the attention to detail, often resulting in repeat business and referrals.
The Investment in Efficiency
Investing in top-notch HVAC van equipment is an investment in the success of your business. With Adrian Steel's van equipment, you're aligning your operations with efficiency and excellence. Their specialized solutions offer the tools to excel in a competitive industry.
Expert Guidance for Your Upfit Journey
Ready for an organized workspace? As a full-line Adrian Steel distributor, we're here to guide you through the process. Our team of experts can help design a custom upfit for your unique needs - maximizing efficiency and bringing your HVAC business to new heights.
HVAC contractors know that the path to success is paved with efficient operations, professionalism, and strategic investments. Equipping your van with Adrian Steel's top-notch HVAC solutions is a strategic move that boosts efficiency, safety, and client satisfaction. Organized shelving, tank racks, and safety features all contribute to your business's growth. Embrace the potential of a well-equipped van and unlock the door to excellence with Adrian Steel's specialized solutions.