The Essential Guide to Ladder Racks (2023)
Wednesday, September 13, 2023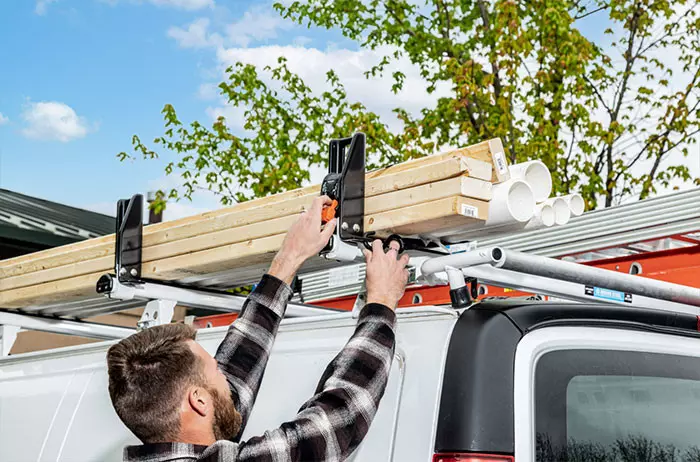 In the world of transportation and logistics, efficiency and safety are paramount. Whether you're a contractor or a handy homeowner - the need to transport ladders, and oversized cargo is common. This is where ladder racks come into play. In this essential guide, we'll explore everything you need to know about ladder racks from our top brands.
Types of Ladder Racks
To start, what are the different types of ladder racks? After all, ladder racks are not one-size-fits-all. They come in various types, each designed to meet specific needs. Here are the different types of ladder racks: truck ladder racks, drop-down ladder racks, grip-lock ladder racks, utility racks, interior ladder racks, and rear-access ladder racks.
Truck Ladder Racks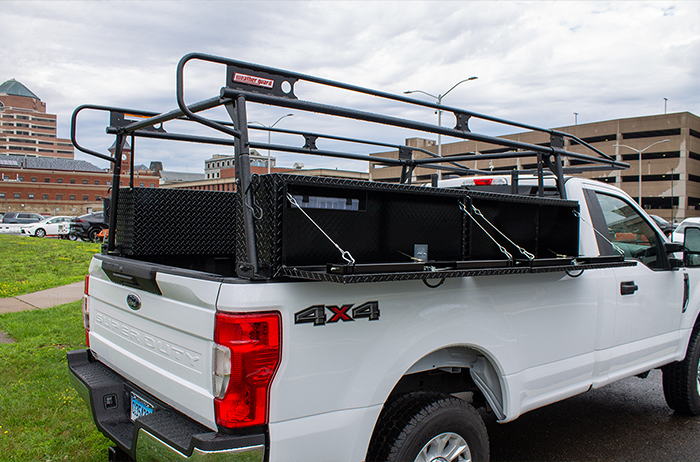 Truck ladder racks for pickup trucks enhance their cargo-carrying capabilities. These racks typically come in two main styles: over-the-cab racks and side-mounted racks.
Benefits of Truck Ladder Racks
Increased Cargo Space: Truck ladder racks increase storage space for ladders, lumber, and more.

Improved Safety: They keep oversized cargo secure and prevent accidents on the road.

Versatility: Truck racks can accommodate various cargo types, making them ideal for a variety of professions.
Best Use Cases
Construction Workers: Perfect for transporting lengthy construction materials.

Carpenters and Roofers: Ideal for carrying ladders and equipment.

Outdoor Enthusiasts: Great for transporting outdoor gear like kayaks and canoes.
Cargo Van Ladder Racks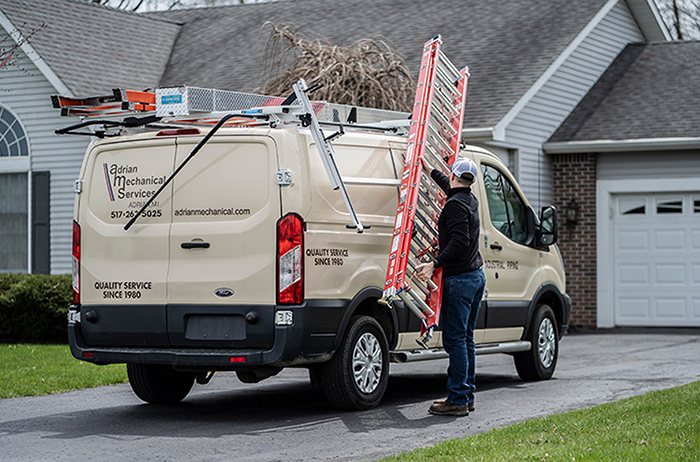 Cargo van ladder racks are designed for full-size and compact vans. These racks maximize the van's cargo capacity by allowing for the secure transport of ladders and other long items.
Types of Van Ladder Racks
Advantages of Cargo Van Ladder Racks
Space Optimization: Utilizes the often underutilized roof space of cargo vans.

Professional Image: Provides a professional appearance, which can boost your business's credibility.

Safety: Ensures that cargo is safely secured during transportation.
Suitable Industries
HVAC Technicians: For carrying bulky materials and pipes.

Electricians: Ideal for transporting conduit and long cables.

Contractors & Painters: Perfect for securely transporting ladders.
---
Choosing the Right Ladder Rack
Selecting the right ladder rack is crucial to ensure it meets your specific needs. Consider the following factors:
Vehicle Compatibility
Weight Capacity
Material and Durability
Ladder racks come in various materials like aluminum and steel. Consider the material's strength, weight, and resistance to corrosion.
---
Installation
DIY vs. Professional Installation
---
Safety and Security
Safety should always be a top priority when using ladder racks to transport cargo.
Properly Securing Ladders
Secure your cargo with ratchet straps or bungee cords to prevent it from shifting during transport.

Use ladder stops or tie-downs to keep ladders in place.
Best Practices
Always follow best practices for securing loads, ensuring they are distributed and well-balanced.

Check the load's security before and during your journey.
Theft Prevention
Invest in anti-theft accessories like locking mechanisms or security cables.

Park in well-lit areas and consider using a lockable storage box for valuable tools.
---
Our Best Selling Brands
When choosing a ladder rack, it's essential to consider reputable brands and models. Adrian Steel, Weather Guard, and Ranger Design produce some of our best-selling ladder racks.
Adrian Steel
Known for its durable and versatile ladder rack systems.

Offers a range of options suitable for various vehicles.

Our pick for Drop-Down Ladder Racks.
Weather Guard
Specializes in high-quality ladder racks known for their strength and versatility.

Popular among contractors and professionals with pickup trucks.

Impressive weight ratings (Some up to 1000 lbs.).
Ranger Design
Similar models to choose from as Adrian Steel and Weather Guard.

A popular choice for owners of compact vans.

Cargo+ Rack has numerous tie-down points and side rails.
---
Ladder racks are indispensable tools that enhance safety, efficiency, and professionalism. By choosing the right one for your needs, you can optimize your cargo transportation. Remember to select a ladder rack from reputable brands to guarantee quality and reliability. We're proud installers of Adrian Steel, Weather Guard, Ranger Design, and more.
Now that you have a better understanding of ladder racks, take action and upgrade your transportation setup. Ensure a smoother and safer journey for your valuable cargo. Give us a call or stop by to see our demo units!