Vantech Ladder Racks: Easy, Durable, Affordable
Wednesday, November 15, 2023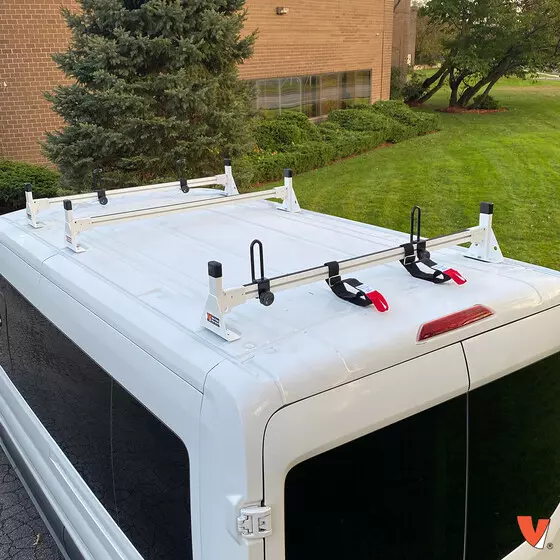 Adding a ladder rack to your cargo van is the best way to maximize its utility and function. Vantech stands as a prominent name in commercial van equipment, and for good reason. Let's delve into why Vantech ladder racks could be a practical addition to your van setup.
Why Choose Vantech Ladder Racks?
Expertise in Ladder Rack Design
Vantech ladder racks provide a combination of strength, convenience, and affordability. Constructed with heavy-duty aluminum, these racks are built to last, withstanding the wear and tear of daily use. Their simple installation process ensures that you can have them up and running in no time. Moreover, their prices are competitive when compared to other brands, making them an accessible and economical choice.
Understand Your Requirements
Assessing Your Van
Understanding your van's specifics is pivotal before purchasing any ladder racks. Different vans have distinct configurations, wheelbases, and roof heights. Additionally, consider your typical cargo weight and usage.
Vantech Roof Racks
Vantech offers a range of rack options, our personal pick is the H1 Ladder Roof Rack - an aluminum 2/3 bar system. This rack features reinforced extruded aluminum crossbars with internal structural support. The H1 can support up to 750 lbs. of evenly distributed weight (always consider the maximum weight your van roof is rated for).
The Vantech H1 steel system uses 2″ X 1″ rectangular bars. The Crossbar is protected by a bar guard layer on top of the crossbars. The Mounting uprights base has an extra wide 8″ X 2″ wide base at 10.5″ total height. The Base is welded completely onto an upright post for a complete seal.
Concluding Thoughts
Vantech ladder racks have become a go-to for many van owners. With its easy installation, durable construction, and affordability, it's no surprise why so many have opted for Vantech. The sleek design makes it suitable for most van models and can be adapted to suit specific needs.
Ready to upgrade your van setup? Consider a Vantech ladder rack and witness the augmentation of your hauling capabilities!